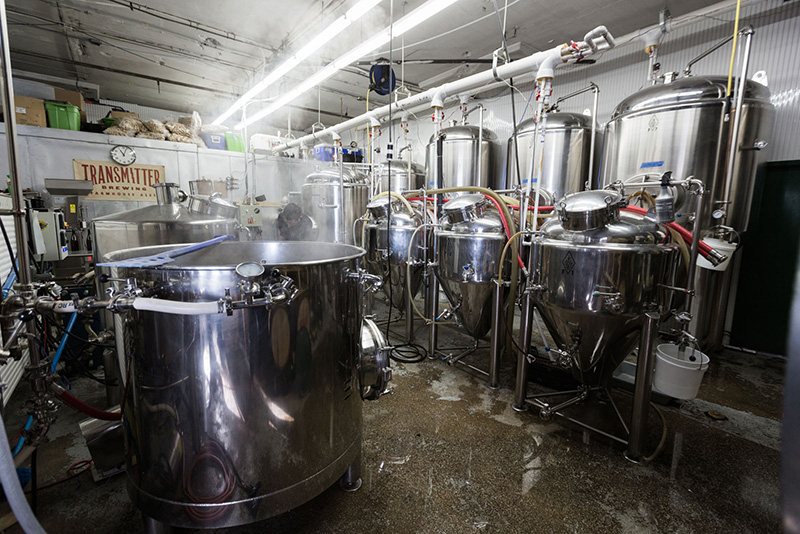 ABOUT TRANSMITTER BREWING
Formed to bring a unique perspective on traditional beer styles to the local New York City beer scene. Through the informed use and interactions of yeast and hops, we hope to add to the conversation about what is craft beer. We invite you to enjoy an ever rotating stock of unique farmhouse style beers crafted with a passion for the process of brewing and for drinking good beer
WHO WE ARE
We are Rob Kolb and Anthony Accardi. We first shared a beer in 2005 when we each were avid amateur bicycle racers. We soon realized we shared a love of food and a passion for making it ourselves. From making homemade corned beef to experimenting with pickle recipes, a lasting friendship was born. Many meals and beers later, Rob convinced Anthony to dust off old homebrew equipment he had from the 1990's as a home brewer and the seeds of Transmitter Brewing were sown. We have been experimenting and developing our approach ever since.
WHAT WE DO
We are brewing beers with a focus on traditional and farmhouse ales. We have secured over 20 isolated strains of Brettanomyces, Lactobacillus, and Pediococcus, as well as a brewhouse library of traditional Belgian, French, English and American yeasts. Our mission at Transmitter Brewing is to leverage our passion, and introduce you to compelling and unique beers with an appreciation of their history and a focus on the quality of ingredients. We are constantly striving to create approachable interesting yeast driven beers with complimenting grains and hops.
HOW WE DO IT
Beer is much more than the sum of its parts. At its most pure form, its just four simple ingredients: hops, malt, water and yeast. It is only through the synergy of process and those basic building blocks that unique and interesting interpretations of beer styles are possible. Through the process of brewing, it is possible to make an infinite number of flavor combinations and styles. It is this endless creative possibility that fuels and flames our passion for fermenting beer. Our satisfaction comes from the combination of the basic understanding of the ingredients and their interactions and the "aha" moments of discovery of the synergy between them.